The Man "Obasanjo"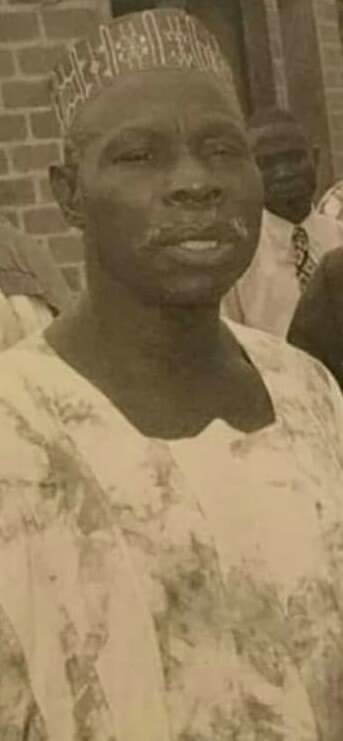 Chief Olusegun Obasanjo is the one who sowed the seed of corruption in Nigerai as far back as 1975. What we witnessed in Nigeria between 1975 and 2015 are the friuts of Obasanjo's Corruption and wickedness for which GOD destroyed the world with water in Genesis 6:2-14.
Obasanjo is the greatest enemy of Nigeria. It could have been better for Nigeria if he was not born.
I have all the documents of all you shall read from now with EFCC and had been investigated. They were all in the Vanguard of 6th April, 2017, in an interview I gave them for my 90th Birthday. I jointly with the Federal Government are great victims of Obasanjo's Fraud and wickedness. Nigerian youth are the greatest victims
Obasanjo was in the FOUR YEARS PLAN of General Yakubu Gowon referred to on 17th November 2017 in Channel News. General Gowon said:-
"If the Government that took over from my Government had executed the FOUR YEARS PLAN that my Government had proposed for Nigeria, Nigeria would have been greater than DUBAI in all respect. We are now in poor state."
Gowon had two plans.
Construction of Dual Carriage Way to serve the Proposed Modular Refineries ranging from 500bpd to 50,000bpd along the Niger Delta States. There would be no Crude oil spillng. This was to be financed by French Government, through Bank National De Paris, BNP. The loan was less than $100million Dollars at 4% interest rate, 70Kobo to a dollar. Not 500billion Dollars at N350 for Dollar 40 years later.
Obasanjo was a signatory to the Joint Venture Agreement. He owns 20% of the share capital. Obasanjo is one of the Subscribers to the Articles and Memorandum of the Company. He was in charge constructions. All this arrangements were concluded while he was on Military Course in London. He came back in 1975 and was made commissioner for Works, very unfortunately. He was to develop the Tin Can Island Port. Obasanjo ended up stealing Shunk Part Of the Land he was to develop and developed Beach Land Estate for himself under the identity of Late Chief Egunjobi. He let part of the Estate to Julius Berger for $1millon Dollars per annum. For this reason he took over the Government from Gen Muritala Muhammed in 1975.
Olusegun Obasanjo made the FOUR YEARS PROGRESSIVE PLAN to 40 years corruptive, wicked and punitive, Retrogressive Plan. 1975 to 2015. Nigeria was kept in WILDERNESS for 40 years, where the people are hungry, sick, ignorant and defenceless. Went after the life of Gen Gowon, stripped him of all the facilities granted him whilst in exile in LONDON, by Gen Muritala Muhammad. Killed many soldiers from Brnue and Plateau.
Most wicked and sadist. According to Late Allison Ayida, in his book Obasamjo was paying civil servants to say that Gowon Killed Muritala. What a Devil?
The second part of the FOUR YEARS DEVELOPMENT PLAN was the construction of Modular Refineries. The French Government were to finance the Ajaokuta Iron and Steel Project.
They financed the Sapele Salt Refineries owned jointly by my company, Nigeria Salt and Allied Chemical Industry Limited. Because I would not over invoiced by 132% which shall be loss of many millions Dollsrs. Instead of $24.5 per metric ton Obasanjo paid $56.6 per metric tons. When I, as the Managing Director refused to alter the price of $25.5 to $56.6 Obasanjo and Ahmed Joda his cohort with Liman Adamu Ciroma went ahead and signed and took over the company by Decree forbiding me all my right to make redress on any Court in Nigeria. Decree No.27 September, 1978, 40 years ago
General Babangida ended up buying the Salt factory under the cover of Chief Gabriel Igbinedion and latter bought
by both Governor Ibori and Governor Lucky Igbinedion. They turned it to Tank Farm for Nigeria Crude oil refined outside the country
to be sold to Nigeria.
I latter appeared before Justice Okputa Panel led by Barr Femi Falana.
I took Obasanjo to Court and sued for $100billion. Obasanjo did all he could to see that the case did not get to the Court.
Barr Femi Falana went before National Human Rights Commission, NHRC. Despite all my effort to get the Executive Secretary to Get the case fixed, my lawyer, Femi Falana who told me that we would bring Obasanjo to Court, was working against me. We got notice that the Commissioners were to go to the site for inspections.
The letter was sent to Falana's Chamber. The copy was sent to me from Femi Falana's Chambers. Falana did not turn up at Ughara, Sapele. He did not send any lawyer from his Chamber. These cases are with the EFCC. Obasanjo paid him not to appear
I have got petitions with the Presidency and the EFCC which I expect President Buhari should act on now.
I am sure that President Bihari would, win the election. He, Obasanjo should be arrested now. The Oba of Lagos told Obasanjo that he was the problem of Nigeria.
Obasanjo, Babangida and Danjuma are the ones fighting Nigeria. They are richer than Africa put together
When I wrote my petition to the presidency in 2017
Obasanjo ran to the Ooni of Ofe crying that EFCC was after him.
Lately, I reported to EFCC and they got the children of Chief Egunjobi to come to their office with all implicating documents on 7th November, 2018, it was reported in Daily Post of 6th November, that Obasanjo said that EFCC could not seize his passport. Obasamjo is a coward. Whenever he is in trouble he always remember that he is a Yoruba
Obasanjo is not greeter than Nigeria. I have submitted more than enough documents on Obasanjo and Danjuma. I would forgive others. If Obasanjo had not sown the seed of corruption in 1975, within four years, Nigeria in 1979 would have since been greater than DUBAI
When Obasanjo was leaving as military Head of State he insisted that Danjuma should resign from the army.
Onasanjo should be brought to book. Babangida should be made to pay back the $12.5 Billion Dollars. These people are not greater than the Government of Nigeria..
Any Party that associate with Obasanjo is Corrupt. Nigeria is already in the PROMISED LAND. We are not going back to the WILDERNESS.
The GOD is answering the Prayers Of The Catholic Church every Mass for Nigeria In Distress that
Obasanjo put Nigeria. We also pray against Bribery and Corruptom
GOD is answering our prayers.
I am fighting against Bribery and Corruption. I am for GOD, I am with President Muhamed Buhari.
If Obasanjo is invited by EFCC following my well documented petition, the election would be won before 2019.
Prof. Ezenwa Ugochukwu