Ilesa Water Works project; law makers expresses satisfaction.
The Special committee inaugurated by the State of Osun House of Assembly and the House committee on water and mineral resources visited the on-going Ilesa water project to carry out oversight function.
The team led by the deputy speaker Hon Olufemi Popoola expresses satisfaction with the work done so far at the sites.
The team comprising Hon Nasir Olateju as the chairman house committee on water and miniral resources, Desmond Ojo ,Hon Israel Oyekunle Adekunle, Hon Babatunde Festus Komolafe and Hon Taofeek Olatunde Badamosi carried out a thorough assignment during the oversight function.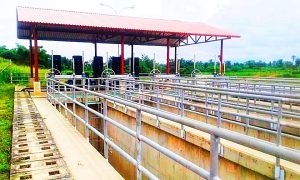 The deputy speaker Olufemi Popoola and Hon Olateju in separate interviews expresses satisfaction with what the level of work done at the sites visited viz-a-viz the fund made available to the consultant and as well, registered their displeasure on the shift in the projected date of projected delivery.
The Senior Consultant handling Ilesha Water Works Project in Osun state, Mrs Tawakalitu Williams while answering questions from newsmen listed arrays of inhibiting factors that has lowered the pace at which the project is moving ranging from; weather, lateness in release of fund and the topography of the places where tanks are to be built, among others.
While expressing her heartfelt regret on the shift of date in the project delivery, she said the factors aforementioned were things they have to battle with and manage that has necessitated the shift in the projected date of the project delivery.
She however assured the people of Ijesha land of a new delivery time frame which is the last quarter of 2021.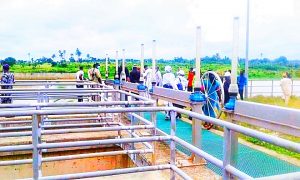 The sites visited are;
* Intake and weir at Kajola
* Water treatment plant site at Kajola
* Transmission main line at Kajola
* Distribution network Lot 3- Bran &Lubbe Nig. Ltd site at Omiru, Ilesa
* Booster pumping site
* Tank 1 site, oke-imo, Ilesa
* Gamji Ltd Batching plant site
* Tank 2 site, Akure/Ibadan express way
* Distribution Network lot 2-paner-frere Fetous Ltd office and work site
* Tank 3 site, Oke-opo
* Distribution Network Lot 3- Bran & Lubbe Ltd office.
* Distribution Network Lot 2- Thomas Chase Ltd Office and work site
The multibillion naira water works project will serve the whole of Ijesha land when completed.