Hundreds of Students in Osogbo benefit from SRJ Progamme
by Tajudeen Ahmad
Students of Salvation Army Middle Schools and Laro Middle Schools all in Osogbo today benefitted from the good gesture of the Commissioner for Justice and Attorney General in the State of Osun, Dr Ajibola Basiru as free exercise books were distributed to them to assist their education.
The gesture was powered by a friend of the Attorney General, Dr. Oluseye Esan in support of Dr Basiru's desire to assist pupils and students of his district
in their academics endeavours.
Speaking with newsmen after distributing exercise books for pupils of Laro Middle school, Oke Fia Osogbo, the benefactor Dr. Oluseye Esan who came from the United States of America said he embarked on this gesture in support of SRJ who loves putting smiles on faces of people from the grassroots.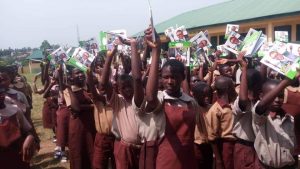 Dr. Esan who is an old student of Laro Grammar School, where SRJ also had his secondary education advised students of the school to be curious to learn and follow the footsteps of Dr Basiru, who attended public schools all through his life and is now a successful lawyer and politician.
One of the Principals of the School, Mr Gideon Olabiran described SRJ as a golden product of the school which reflected in some laudable projects he had executed in the school.
He said Dr Basiru is always available anytime the school calls on him, urging other school alumni to follow suit.
Also at the Salvation Army Middle School, Alekunwodo Osogbo, the primary school attended by SRJ, Director General of Ajibola Basiru Campaign Organisation Hon Laide Ajibola charged beneficiaries to study hard, be humble and listen to their teachers.
Hon Ajibola said the gesture was just a tip of the iceberg as Dr Basiru will soon embark on series of programs that will further improve the living standard of people of Osun Central Senatorial District.
The elated students of the schools prayed God to grant Dr Basiru his heart desire and to live long to be able to do more of this.