OSUN STATE POLICE COMMAND SHOT AND KILLED AJALA ISAIAH,THE SON OF ALAYE OF AYEODAN OVER A CIVIL MATTER.
One Isaiah Ajala,the son of the Alaye Of Ayeodan, HRH Matthew Ajala Olalekan has been reportedly killed by a Nigerian police, Zone 11, Osogbo, state of Osun in the early hours of Tuesday 16th of March 2021.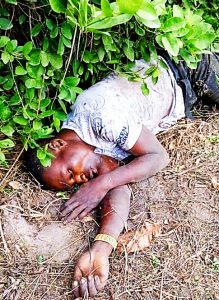 The young guy was shot and died on the spot over a civil case involving one Mr Ayoola.and the Kabiyesi Alaye of Ayeodan which has been earlier reported at the Osun state police area command,Osogbo and which prompted the visitation of Police officers to the scene of the incident six days ago.
In the presence of the police, Mr Ayoola,the complainant in the matter pointed a finger at one Gbenga Ajala,who fell down and died on the spot.
In the early hours of today again, the Osun Police command came visiting again based on the instruction of Mr Ayoola to arrest Isiah Ajala and some other traditional chiefs in the town on the process of which Mr Ajala Isiah was also shot and killed by the Nigerian Police in the process.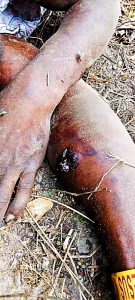 The remains of Isiah Ajala has been taken to mortuary by the Nigeria police Ejigbo command.