*HON ADEYEYE RENOVATED FIRST MATERNITY AT MODAKEKE*
The Ogunsua of Modakeke, HRH. Joseph Olubiyi Toriola (Ajibise Ogo 1) commended House of Assembly member representing Ife East local government, Hon. Martins Adeyeye for his people's oriented project delivered to Modakeke Progressive Union today at Itaasin ahead of 2022 Akoraye Day celebration. Describing Hon. Adeyeye as a silent achieving Lawmaker whose constituency priority is very paramount and always available for the yearnings of the constituency.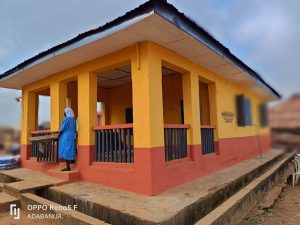 The Chairman, Modakeke Progressive Union, Rotarian (Dr) Julius Odegbemi applauded Hon. Adeyeye bold move coming from Law-Chamber to the grassroots needs by turning a rotten and abandoned Tuberculosis center into a great maternity center to be proud of today. Rotarian Odegbemi said Hon. Adeyeye was said to be driving along when the maternity was discovered and today he has made history in Modakeke Land.
In their response, eminent APC Cheiftains, Hon. (High-Cheif) Adetunji Wahab (a.k.a Olowo Asalu), Alhaji Oluomo Fatai Kolawole said what Modakeke achieved today is a land mark in the history of dividend of democracy and this will control and reduce the levels of Tuberculosis transmission and medical care within the Area Office environment.
On his handling over, Hon. Adeyeye assured people of Modakeke of his continue support to promote well living standard if given the opportunity to serve in the State House of Assembly 2023 general election. He said aside the center renovated and three bedies donated, an office will soon be erected to accommodate staff for effective services. He solicited for their vote in the coming election and assured people of his constituency peoples' oriented program and encouraged those on health challenges to visit State hospital and mostly people on red-alert tuberculosis diseases to visit the maternity as necessary medicare is available and at no cost.
He urged infected person to visit center and comply with necessary medication. He said treatment defaulting is one of the major causes of the failure of tuberculosis control and with the available medicare center, people should ensure effective use of the facility. He congratulated all Modakeke on 2022 Akoraye-Day and wish all many years of celebration and God guidance.
Present at the handling-over ceremony were Ogunsua-in-Council, Council of Cheifs, Modakeke Progressive Union, APC stakeholder in Area Office and Ife East local government, Hon Adeyeye support team led by Hon. Olanrewaju Babs, Hon. Atunluse Titilola Moshood, Hon Sade Adegoke, Hon. Aworeni Abayomi, Chaplain (Comrade) Ajiboye Oyesina, Party Women and Youth leaders, Area Office NULGE Chairman, HOD Area Office Health Center and host of other.