ATTEMPT ON MY LIFE: SEPARATING FACTS FROM FICTION AN ADRESSS PRESENTED AT THE PRESS CONFERENCE CONVENED ON WEDNESDAY, MARCH 31, 2021, BY MR. OLATEJU ISHOLA, ON THE ASSASSINATION ATTEMPT MADE ON ME ON SUNDAY, MARCH 28, 2021.
Gentlemen of the Press!
On the night of Sunday, March 28, 2021, attempt was made on my life at a public restaurant / bar located at Oroki Estate area of Osogbo, capital of the State of Osun by numerous hoodlums who stormed the venue where I and others who were in my company graced a birthday event of Honourable Taofeek Badmus, to which I was invited.
Let it be stated categorically, and made incontrovertibly clear that news mostly making the rounds since the story of the attack first broke were any of complete falsehood, make-believe, attempts at falsifying reality or even attempt at covering the tracks of those who hatched the nefarious act.
The perpetrators could attempt a cover-up, I trust they cannot escape the scrupulous investigations of our law enforcement agencies. Let it be reiterated that the attack on me was pure assassination attempt. It had nothing to do with any other event or catastrophe with which any person or group may treacherously attempt to get it associated.
This Press Conference is intended to state the whole truth regarding the accounts of events which unfolded that evening / night and to set the records straight and clear that what transpired against me, Ishola Olateju at the Firewood Restaurant, Oroki Estate, Osogbo which hosted the events is attempted assassination.
To all intents and purposes, the assailants came to maim, abduct and (eventually) assassinate me as their principal victim in the onslaught. The entire events suggested attacks on any other victim as mere decoy.
On Friday, March 26, 2021, I was at Ibadan, capital of Oyo State where my boss and principal, Ogbeni Rauf Aregbesola, immediate past governor of the State of Osun and incumbent Minister of Interior was inducted as Grand Patron of the B Zone (South-West) of Nigeria Union of Journalists (NUJ) and conferred with an Award of Excellence in Leadership by that same body.
It was at these twin-events that I met with the member of the Osun State House of Assembly representing Osogbo State Constituency, who doubles as celebrator at the Sunday event, Honourable Taofeeq Badmus. As prelude to the Sunday evening event, Hon. Badmus had demanded that we met at Zerab Hotel in Osogbo during the day but I declined.
Around 6 to 6.30 in the Sunday evening, as I made to go out to some places; I stumbled on the Personal Assistant to Hon. Badmus around Capital Junction area of Osogbo where he had been to make some purchases.
It was after then, precisely around 7pm, that I received a message from Badmus that the events of that Sunday evening would hold at Firewood, a restaurant / bar located at Oroki Estate in Osogbo.
I decided to honour the invitation because I am familiar with the celebrator and others involved for quite some time, being members of the same political family this is a matter of trust. I did not foresee in the least a situation where what happened to me would have happened; basically because of the spirit of collegiality I believed was in vogue within the party (All Progressives Congress, APC) fold in the state.
So I set out with four men in my company, namely: Kehinde Adeniyi (Aresa), Rasheed Ropo (Triple R), Wale Omolola and my Personal Assistant, Dare Ogundotun.
Upon arrival at the event venue, activities commenced normally. There were dancing and drinking sprees, characteristic of such events. As a matter of fact, there was no political discourse at all that could premeditate that danger of any sort was lurking. We were dancing to the melody and celebrating the man.
The music lyrics at times drifted to the praises of Aregbesola and Oyetola in turns, both of which I responded to with positive attitude and gestures, as I danced. There was no any ill-feeling. It was Hon. Desmond that was directing the musician on which song to sing.
I did not tell the musician anything, nor oppose any of the lyrics or praises of Governor Adegboyega Oyetola. Why would I even do that? I had been at different parties with PDP members without any ill-feelings on the political songs of the musician, either against or for me.
The people spreading the misinformation that I objected to Oyetolas song praise at the party were telling outright falsehood. I suspect they were all aware of the planned attack, hence the need to quickly come out with cover-up story.
And I call on the security agents to investigate the claims and involvement in the attack.
Let me state that inside the venue, so many familiar faces were present, party stalwarts, political office holders, elected honuorables like Hon Festus Komolafe, a.k.a. BFK, Honourable Babatunde Desmond Ojo from Oriade State Constituency and the lawmaker from Olaoluwa State Constituency, Ms Nike Famodun, among others. Nothing at all could have suggested the inhuman treatment I later got at that place that night.
The first feelings of danger came when my Personal Assistant came to whisper into my ears that I was not safe in the place and that we should start finding our ways out. My response was instant; I took style to dance out of the stage and got out to the spacious premises. Few minutes later, I stepped out to discuss with an aide to the Speaker, Osun State House of Assembly, Joseph Akanbi.
We were right outside with a woman, a quantity surveyor. Then, I saw a bus that parked at a close distance. There were two mobile policemen in the bus. There and then, I sensed trouble. So, I excused the people I was discussing with. I smelt danger but I wasnt coming to terms with the fact that the attack could be meant for me.
I went back inside the restaurant to inform Aresa of what I saw outside. I was backing the entrance. Suddenly, one of the guys who alighted from the parked bus rushed at me and started shouting: Ohun niyen, this is Teju and so on.
Then the blows, the cuts, the bruises and all the rest began and so it continued. Alhaji Simple, an elder brother to Senator Ajibola Basiru was also on hand. His response was that of reprimand, saying, What is wrong with you guys, are you out of your senses? I think he might have known one or two of the thugs that attacked me.
The assailants responded by attacking him with a sharp object. That was how he sustained injuries. Hon. Taofeek Badmus was also attacked. He was punched and harassed. He later hid under the table of a man selling suya at the place.
Also, Honourable BFK was harassed by the thugs when he attempted to rescue my friend, Wale Omolola. I managed to escape from the restaurant and was running towards Jerry Paul filling station.
The hoodlums were running after me. They shot at me several times. They were shouting dont kill him here, let us catch him and take him to another place.
I heard my PA, Dare screaming. I thought he had been severely injured. I had to navigate my way back to the restaurant to rescue him because I thought I had diverted the attention of the thugs. Unfortunately, I ran into their midst.
They held me and started unleashing machete cuts on me. Luckily for me, a bouncer at the restaurant punched two of the hoodlums holding me and some of them went for him. That was how I was able to escape from them.
The guy who led the attack is a known notorious hoodlum who he and his gang members have been enjoying executive protection in the state.
Few minutes later, I came back to the scene in search of my PA and phones.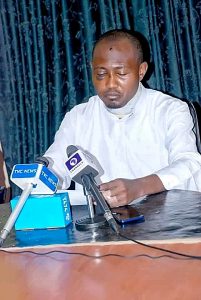 I saw the ring leader of the thugs, a known person to me, too. He turned back immediately he saw me. It was during that time that Hon. Taofeek Badmus called one of the people around and asked him to tell me to come to UNIOSUN Teaching Hospital. I insisted I was not going.
I thought he was also there for treatment. Let me state here that it is unfortunate and an act of cowardice for Hon. Badmus to have denied there was an attack on him, a move to underplay the assassination attempt on me.
During later efforts to recover the phones, we called the line in one of the phones, a guy picked it and said he was at Old Garage. He demanded for N10, 000 before releasing the phone.
He sent an account number with First Bank. The guy is also a known notorious miscreant in Osogbo.
I crave the indulgence of the press, the security outfits and all people of substance in our society to rise up and fish out these miscreants and their paymasters and bring them to justice.
From what I observed, the attack is premeditated and political. It was an unprovoked attack, and it was an attempt on my life. I thank God that I survived it.
Thanks and God bless!