*8 YEARS REMEMBRANCE OF THE FIRST OSUN STATE ACCOUNTANT GENERAL, CHIEF A. A KEHINDE*
Like father, like son, today marks it exactly 8 years *Hon. Yemi Kehinde Gbera* lose dad, he said in his words today that "I wish my dad is still alive, I need to talk to him and learn more" my dad is a wonderful man specially made by God. He is well known for his active years in service and the lives he touched till his last breath. He left a good name behind that still speaks for me till date, I'm so proud he is my father, believe me I see favor wherever i go. Before his death, I learned so many good things from him which I do till now. I didn't just jump into politics I learn It from him as if I was in school. He was my father but we later became friends and very close maybe because share same names….. I don't know (smiles) I miss and love my dad. He is a progressive man. If I have the privilige I will do more than my dad he said….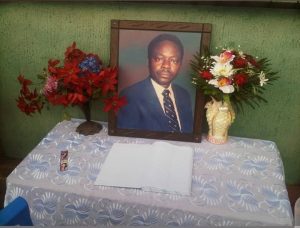 The mouthwatering legacies coupled with the limitless pace of our ionic accounting expert cannot be quickly erased in the memory of all and sundry because of boundless lives he had touched through his magnificent innovations, brilliance and connections around the world. This is a man whose used his diligence, perseverance and tenacity to cancel erroneous assumption of some indolents who believe sons and daughters of paupers who don't have connection cannot climb the pinnacle of ladder. Unarguably, *Chief Albert Adeyemi Kehinde* (born on Valentine's day February 14th 1938) an illustrious, preeminent, outstanding, distinguished and notable son of Gbongan, the headquarters of Ayedaade local Government, Osun State. He was the last Accountant General of the Old Oyo State and the first Accountant General in Osun state whose meritorious services contributed immensely to the growth of Osun and Oyo states respectively.
Our highly respected Accounting wizard when in public service, didn't condone laziness and was a man who completely abstained from corruption. These unequalled fine attributes gave him cartels of prudent appellations in office and Gbonganland. In the quest for qualitative education, Chief Albert Adeyemi Kehinde travelled far and near not for his personal benefit alone but to ensure his immediate environment is absolutely exonerated from the scourge of illiteracy, exploitation and academic quagmires. He used his good exposure and candour to bring civilization and independence to the great Britain of Nigeria, Gbongan.
As we remember of our destiny helper and founding father today, it's generally believed his good deeds would definitely lure others to continue from where he stopped before extemporaneous death took him away in our midst. To some sections of individuals, he is a role model, many address him as an incomparable philanthropist, some call him a silent achiever who didn't make noise on whatsoever he had achieved. This is a man who while junketing around Gbongan streets, received continuous encomium as if the President and his entourages are commissioning a world class project. When skillful Adeyemi Kehinde was in public service, he used his position to employ numerous unemployed persons in Ayedaade local government and beyond, not minding their political attachments, religious beliefs, ethnic groups and family backgrounds. After his praiseworthy service, the then military administrator, Col Leo Ajiborisa offered him another juicy appointment as the first Managing director of a newly incorporated company, Osun State incorporated company limited, OSICOL. A position he held and served tirelessly. Chief Adeyemi Kehinde didn't relent his efforts towards bringing succour to his people as he was offered another appointment to serve as the Chairman Ayedaade transition committee by the then governor, Chief Bisi Akande. During his reign as the Chairman, Ayedaade local government, a number of spectacular and developmental projects were executed and completed.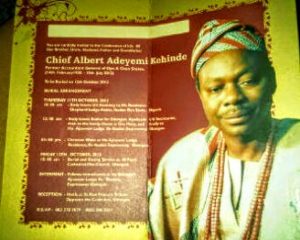 He was the former Balogun and Osi (Third in rank) of the great Gbonganland, a prestigious traditional title before his painful demise. He attended many seminars and conferences outside Nigeria before his exit. Undoubtedly, Chief Adeyemi Kehinde's name has been clearly written on a platter of gold. No wonder his sterling legacies lives on. It's very difficult to forget this veteran accountant because of countless things he did. The beauty behind his good deeds is that his children are making it today. Majority of his children are leaders in their respective areas of specialization. Obviously, no amount of brilliantly worded renditions or articles can vividly describe Chief Adeyemi Kehinde. As we remember our beloved father and mentor of high repute today, we pray fervently to God to forgive his shortcomings and give him a decent abode in the sacred Paradise of God.
*LATE (CHIEF) ALBERT YEMI KEHINDE FEBRUARY 14, 1938 – JULY 15, 2012*
Signed:
*Hon. Yemi Kehinde (Gbera)*
South West coordinator, Association of Local Govt. Vice Chairmen, federal republic of Nigeria.
&
The Vice Chairman, Ayedaade local government, State of Osun.