HON. WALE ADEDOYIN FELICITATES WITH RT. HONOURABLE TIMOTHY OWOEYE, THE SPEAKER OSUN STATE HOUSE OF ASSEMBLY, AS HE CELEBRATES HIS BIRTHDAY TODAY.
Honourable Wale Adedoyin, honourable representing Ilesa West State Constituency celebrates with his counterpart from Ilesa East, who is also the Speaker Osun State House of Assembly.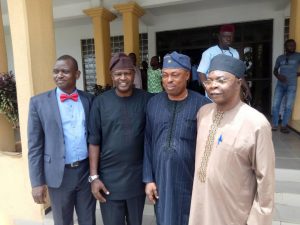 Hon. Adedoyin, in a statement made available through his media Aide noted that Honourable Owoeye is a Worthy Son of Ijesa Land that worth celebrating on a special day like this.
The lawmaker noted that he will not hesitate to rejoice with the Honourable Speaker on this special day of his life.
Honourable Wale Adedoyin acknowledged the unique style the Speaker has employed in running the affairs of the "House". He then pray for more wisdom, guidance and courage to paddle the affairs of the house.
Lastly, i on behalf of the good people Ilesa West State Constituency, wishes to congratulates you and wish you long life and prosperous years ahead.
IGBA ODUN, ODUN KAN.
Age with massive Grace, wisdom, understanding guidance and courage.
Signed: Hon. Wale Adedoyin EYIYATO
Ilesa West State Constituency Lawmaker.