Hon Ibirogba Babatunde Eleniyan flags off his house of assembly campaign.
The house of assembly candidate under the platform of All Progressive Congress APC in Egbedore local government area in the coming elections Hon Otunba Babatunde John Ibirogba popularly known as "Eleniyan flags off his election campaign in Egbedore local government area of the state of Osun.
The campaign which commenced yesterday from Awo the headquarters of Egbedore local government later moved to Iwoye/Ekuro/Idoo and later to Iragberi and today continue from Ara the hometown of the APC house of assembly candidate Hon Ibirogba Babatunde Eleniyan to Ojo/Aro ward and later to Okinni area office and finally to Olorunsogo and Ofatedo.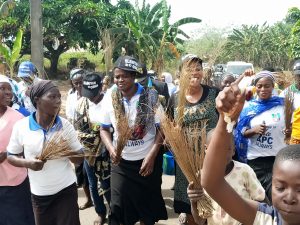 Party members from all wards in the local government witnessed the events,the campaign which was led by the incumbent honorable representing Egbedore state constituency Abiodun Awolola and party leaders, youth leaders,women Leaders of the party in all wards across the local government.
The APC local government chairmen Mr Bukola Ojo and Hon Oyewole Fawande led other party leaders at the program.
The political office holders both former and present also graced the occasion.
Honorable Abiodun Awolola while addressing party faithfuls urges them to work for the success of the party at the poll so that we continue enjoying uninterrupted dividends of democracy,also in the same vein the APC local government party chairmen Mr Bukola Ojo and Hon Oyewole Fawande also appeal to all party faithful to burry their differences and work together as a team so as to win the coming election.
The APC flag bearer Hon Ibirogba Babatunde Eleniyan while addressing the people also appealed to them to work for the success of the party at the polls and promised never to disappoint them when he eventually emerge victorious at the poll.
The turn out of the people was very impressive.
♦