OSUN UPDATE: Osun Has Moved Forward Under Your Watch -Editors Tell Aregbesola
=====================================
Governor of Osun, Ogbeni Rauf Aregbesola, was on Saturday described as a visionary governor who has not only opened Osun to the entire world but has also set the state on the right pedestal of development.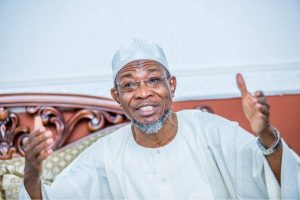 President, Nigerian Guild of Editors, Mrs Funke Egbemode , stated this in Osogbo, when she led the NGE Standing Committee members to an inspection of state projects across some parts of the state.
This was as the Governor attributed the nation's economic problem and the poverty ravaging millions of people to lack of productivity.
Some of the gigantic projects visited by the NGE team include the 18 kilometre Oba Adesoji Aderemi East By-Pass; 3,000 students capacity Ataoja Government High School, Osogbo Government High School, Nelson Mandela Freedom Park and Atewogbeja Fountain, rehabilitated Nigeria Railway Terminus and park.
Egbemode attributed the development and progress of the State to the atmosphere of peace and security being enjoyed in the state.
Egbemode, who is also the Managing Director of the New Telegraph Newspaper, said however ambitious any chief executive of a state is, he can only achieve little without peace and security.
She said it is obvious that something has changed in Osun and there has been a significant improvement in terms of infrastructures in the state since the present administration came on board.
She added that it is gratifying to know that the state of Osun especially the state capital is now looking more clean, developed and beautiful.
Mrs Egbemode, who observed that the state has moved forward tremendously under Aregbesola, stressed that she is always impressed by any government who is passionately working to leave the state better than it met it.
The President of the Guild of Editors also commended the Governor for attracting businesses and investors into the state through its various masses-friendly programmes such as the Osun school feeding programme, Osun Youth empowerment scheme among others.
She said, "Obviously so many things have changed in Osun. I am from this state and I come home occasionally and each time I come there is always a new thing to see.
"I am so happy that we now have a cleaner and more beautiful state, it is great to see that there is a lot of improvement in Osun.
"A governor that is able to attract businesses and investors to his state through direct masses-oriented programmes like the O'Meal, Oyes and others has done well."
Mrs Egbemode also commended the efforts of the Aregbesola administration for making the state one of the safest in the country, noting that it is a pointer to the fact that youths in the state are well engaged.
According to her, "One thing is obvious, weather you are in Osun or you are outside the state reading about Osun, you definitely have a feeling that it is a secured state.
"And one good thing about a peaceful and secured state is that it attracts investors to the state because a peaceful and secured environment helps business to thrive.
"By and large, your government has done well for the people of Osun and we urge you to do more" she said.
In his response, Aregbesola said more than 70 percent of the nation's oil resources goes to less than I percent of the total population thereby leaving large number of the populace living below poverty line.
He lamented that the huge resources in the hands of this few was not even channelled to the development of the nation.
He averred that if people still do not cultivate the habit of working and adding values to the economic activities, we will continue to remain poor.
Aregbesola said "If we have ever paused to ask why we are how we are in this nation, we will discover that lack of productivity is at the root of our economic problems.
"The large chunk of the nation's wealth is in the hands of few while majority wallow in abject poverty. And this resources is not utilised for any development.
"Sadly, work does not pay in Nigeria today as those who work very well are the most poor. Our inability to develop values out of nature brought us to this abysmal level of poverty.
"Therefore, for as long as we don't work for this wealth, it will lead to lack of productivity. Work must be the major attraction for all of us rather than our heavy reliance of rent seeking oil economy of the present."
He cautioned media practitioners on the need to be conscious of the impact of what they write on the society.
The Governor said a serious minded governor would not be averse to criticisms because it serves as signpost for him to watch and be careful of what he is doing.
He however noted that criticism must be constructive and done in good faith.
"Criticism is an elixir of life. If you want to get far in life you must be willing to accept criticism.
"But then journalists also must be conscious of what they want to public and be mindful of its repercussion.
"We should not put out something that will cause crisis in the society because when there is crisis there is no discrimination about who is to be victim. We all will stand the risk of being victims of any crisis situation.
"Thus journalists must always exercise caution in the way and manner they report events."