FLOODING : OSUN GOVT TAKING PROACTIVE MEASURE – DR OBAWALE.
The Osun State government says, its taking proactive measure to mitigate the threat posed by this year's flooding to lives and property, just as the government called on the Federal authority to assist in dredging River Osun.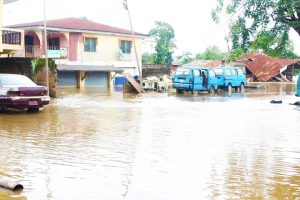 The Supervisor for works,science and technology in the state, Engr Remi Omowaye and his counterpart in the Environment ministry gave the information when they led a government team on an emergency inspection of areas flooded in Oshogbo, the State capital.
Engr Omowaye ascribed the incident to Climate Change which is responsible for the rise in water level and causing River Osun to overflow its natural cause.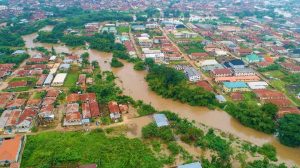 According to him," many countries with advanced technology and environmental protection mechanism are also battling with the challenge posed by climate change, manifesting in flooding, excessive heat and storms".
For his counterpart in the Environment Ministry, Dr Obawole, "River Osun has many tributaries from the neighbouring states of Ekiti and Ondo and other local governments in the state that already have high volume of water, therefore flowing into the Osun River".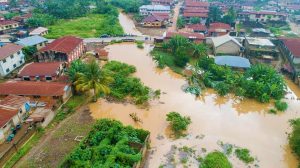 The Supervisor for environment said government had mobilised for the dredging of River Osun to forestall further flooding which would still occur between September and November as predicted by Niemet.
Dr Adebisi Obawole called on the Federal Government to assist the state in dredging the Osun River going by the huge amount required for the exercise.
The Supervisors however charged the people to desist from throwing debris and other solid wastes in to the cause of the River and other streams in the state to avoid the havoc the would be wrecked by flooding once the water could not flow freely.They urged residents to make use of the 293 Osun emergency toll free number incase of floor emergency .
Apart from Oke Arungbo, Abija, Capital and Ataoja Estate affected by Saturday's flooding in Oshogbo, the natural phenomenon also left its woes on farming communities in Ibokun Local government. specialized drone was deployed by the Osun Government to analyze the impact of the heavy downfall.
In Obokun town, the flood which covered more than 3 kilometers on the Obokun Oshogbo Ijebu Ijesa road, destroyed over 20 hectares of farmlands belonging to peasant farmers.
NIEMET had earlier this year listed Ibokun and IlaOrangun local governments as the high risk area to flooding, while it equally mentioned that15 other councils would have a touch of flooding this raining season.
Officials of the Osun west LCDA led by the Chairperson Mrs Temilade Olokungoye also joined the Supervisors for the assessment.