Ensure maximum security to make health care facilities available for use for a long time; Governor Oyetola.
Governor Oyetola has urged the people of Alajue in Ede east LCDA to ensure mutual cooperation with the health workers to provide maximum security for the primary health-care facilities provided by his administration to be enable it serve them for a long time.
Governor Oyetola, represented by the speaker of the State of Osun House of Assembly,Hon. Timothy Owoeye, admonished the people of Alajue during the commissioning of the newly revitalized primary healthcare at Alajue-Oja in Ede East LCDA.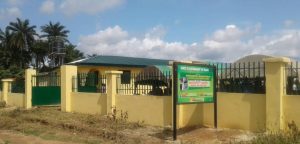 Governor Oyetola whose administration at inception promised the people of Osun State to prioritize their healthy living by revitalizing the available primary healthcare centres and building new ones where necessary accross the 332 wards in Osun state has sucessfully completed 100 out of 175 awarded to contractors while others are at different advance stages.
The revitalization initiative cover renovation of facilities,provision of modern equipment, supply of drugs,training and re-training of health personnel and the employment of technology to power healthcare to deliver optimum result.
He reiterated the commitment of his administration to make life easy for the people of the state and persuaded the people to cooperate with his government to deliver maximum dividend of democracy to them.