EGBEDORE LOCAL GOVERNMENT,IKOTUN WARD 8 COUNCILOR HON OKIKIOLA LAMINA, a.k.a "LAM" GIVES BACK TO HIS PEOPLE:
The honorable councilor representing Ward 8 in Egbedore local government modern council area of the state of Osun today Wednesday 13th of November 2019 gave back to his constituents in Ikotun.
In the events witnessed by the traditional ruler of the ancient town and some traditional chiefs today at the elementary school premises Ikotun, the parliamentarian distributed exercise books to the pupils of the school and also bought iron sheets for the school management to take care of the leaking roof of the classrooms which was reported to him sometimes ago by the headmistress of the school Mrs Lawal.
The Olukotun of Ikotun land,his royal highness Amuda Yusuff while praising the councilor said what he was doing this morning is first of it kind in the history of Ikotun and no councilor has ever attain this wonderful and progressive feet. He now charged all politicians to see political office either elected or appointed as a call to service rather than personal aggrandisement.
His royal highness however mentioned the fixing of aluminium windows at his palace and the ongoing place of ablution project at the central mosque,Ikotun as part of the giant strides of Hon LAM within less than two years in office.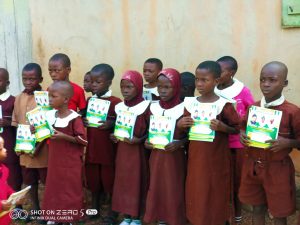 The chairman of the Egbedore local government modern council Engineer Prince Olayiwola Abiola, a.k.a Lamby while addressing the people of Ikotun also praised Hon LAM for his gesture and called it first of it kind in the whole local government area and not only in Ikotun, he then prayed for the success of the honorable councilor whom he described as very hard working,loyal and humble parliamentarian.
The major highlight of the event is the disbursement of the token of Five Thousand Naira each to the selected sixteen people from Ikotun ward 8 by the honorable councilor during the program.
See more pictures below here>>>>