EDUCATION; TOWARDS AN EXCELLENT FUTURE FOR THE UPCOMING GENERATIONS.
Undountedly, education is important so as the creation of avenue for people to progress and excel immensely in it.
*IOAFOUNDATION* extreme affirmation to the above words triggered the willingness to give the best they could do to all and sundry academically and also in other life enriching endeavours.
Statistics have shown that many do get their academic career truncated just because there is no one to help in enhancing their academic progressions.
In order to minimize sad occurrences like these, The *Idris Oyeleke Asekunlowo Fundation (IOA Foundation)* on Thursday 22nd of April, 2021 reached out to young students within *IREWOLE / AYEDAADE / ISOKAN FEDERAL CONSTITUENCY* who were seeking admissions into various tertiary institutions.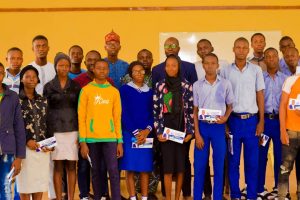 Seventy (70) best Students were offered free jamb forms, subsequently after the Mock Examination was conducted December, 2020.
The awarded students were based on merits as the program itself was tagged *"MERIT BASED FREE JAMB FORM".*
The *IOAFOUNDATION Chairman in person of Alh. Idris Oyeleke Olayinka Asekunlowo* seized the opportunity to reassure the good people of *IREWOLE / AYEDAADE / ISOKAN* Federal consistuency more of such programmes to come.
He equally advised the beneficiaries of the award to make use of it judiciously and also to see it as an opportunity to step up in their academic career.
The beneficiaries in returned also showed their great appreciation for the kind gesture of the *Foundation* .
May God Almighty continue to bless the *IOA* *Foundation* . Amen!
*Signed✍️✍️*
*IOAFOUNDATION MEDIA*