DONT GIVE ANY LOOPHOLE TO THE OPPOSITION". Lani Baderinwa charged Progressives e-Group.
The former commissioner for information in the State of Osun, Mr Lani Baderinwa has admonished the foremost online media group in the state of Osun, PROGRESSIVES E GROUP to give every necessary media support to Gov. Oyetola's administration in making sure the opposition does not take undue advantage to fall this government.
He stated this during a courtesy visit to him by the progressives e -group team this morning. He expresses his confidence in Gov. Oyetola to deliver the dividends of democracy to the people of the state of Osun and take the state to the next level.
He advise the progressives e-group to work to remain relevance as the role the group has been playing within the party cannot be underestimated.
The team leader of the group contingent, Hon Yekini Ademola Omoomi had earlier during the conversation conveyed the group's message to him and congratulated him for having a itch free and successful tenure of office as former commissioner for information and prayed that God will lead him ahead.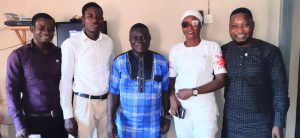 Omoomi however, reiterate the progressives e-group commitment to promoting Gov. Oyetola administration and our great party at large. Adding that we are focused and our ideology as a promoter of good governance remain unchanged.