*COVID – 19*: HON. LARRY – J DISTRIBUTES RELIEF FOOD ITEMS TO HIS CONSTITUENTS.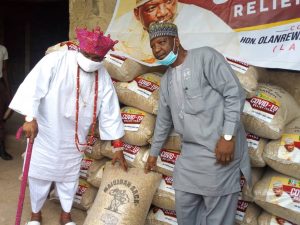 Earlier today, The Alapomu of Apomu Kingdom, HRM Oba Kayode Adenekan AFOLABI flags – off the distribution of relief materials sponsored by the Honourable representing the good people of Irewole / Isokan State Constituency *Hon. Maruf Olanrewaju* (LARRY – J) to the most vulnerable people of the Constituency.
This noble gesture by the OSHA Majority Leader marks the second outing in one month since the outbreak of the deadly Coronavirus pandemic in our dear State and the country at large. The first gesture was the distribution of hand sanitizers and other personal protective equipment to every nooks and crannies of the Constituency on 26th March, 2020.
According to *Hon. Larry – J* while handling over the food items to all the ward representatives for onward delivery to their various beneficiaries, he said the relief materials are meant for the most vulnerable and poor people across the Constituency to cushion the effects of the total lockdown directive of the State Government to prevent community spread of the Covid – 19 pandemic that is currently ravaging the entire world.
He further reiterated that the palliatives are also meant to support the efforts of Governor Gboyega Oyetola in providing succour / assistance to the poor and needy across the state as a result of Covid – 19 pandemic outbreak in the State.
Hon. Larry – J also seized the opportunity to thank and appreciate Governor Gboyega Oyetola for been proactive in curtailing further spread of the pandemic after all the confirmed cases in Osun have been tested negative and discharged accordingly to reunite with their respective families.
On the conclusive note, the majority leader urged the entire Constituents to continue to comply with the stay – at – home directive of the State Government, keep social distancing, avoid hand – shake and adhere strictly to all the precautionary /preventive measures put in place to curb community spread of the pandemic.