COVENANT UNIVERSITY TOWN AND GOWN EVENT LECTURE SERIES.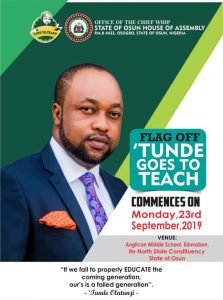 Dear Honourable Olatunji,
"Your nomination to speak to the student community (undergraduate and postgraduate) is informed by your exemplary leadership focus, drive and passion …….as well as your commitment to a national project of social reengineering of our clime.
Listening to you speak at the last Convocation Ceremony of Osun State University afforded the opportunity to glean what you stand for, which syncs with the Core Values of Possibility Mentality, Diligence and Sacrifice of our great University. The University and Department will benefit from and expectedly, be inspired by your perspectives."
CONVENANT UNIVERSITY
October, 2019
"Our progress as a nation can be no swifter than our progress in education. The human mind is our fundamental resource." – John F. Kennedy.