CHIEF BISI AKANDE: I READ HIM LIKE A BOOK; I STUDY HIM LIKE A COURSE!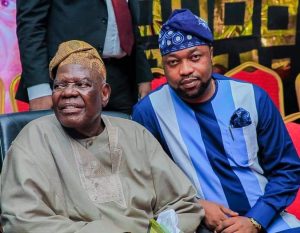 I was at the University of Lagos during the Public Presentation of "THE BISI AKANDE PHENOMENON?" Yesterday. A book written in honour of our dear Baba, Chief Bisi Akande – the former governor of Osun State.
Baba is a man of great wisdom and integrity. A frugal and transparent manager of resources in the overall interest of all.
He is a role model, a mentor and an inspiration to me.
I read Baba Akande like a book, I study him like a course.
May you live long sir!
TO