Celebrating The Creation of Osun@29
The creation of Osun was never an accident, it was carefully orchestrated by providence, that was why on August 27th 1991, Osun was birthed. Much thanks to the then military government for this consideration. Osun, the State of the Virtuous.
As we look forward to the 29th anniversary, it becomes more important to look inwards to confront the challenges and opportunities, better still, to mitigate the negative effect Corona Virus might have on our economy as a State.
Unbundling Osun Potentials towards Prosperity in Agriculture, Tourism and Mining readily comes to mind. This tripod is the Gboyega Oyetola phenomenon, it is called the #OsunATM.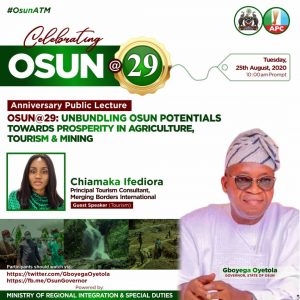 There will be a Virtual Public Lecture to herald the 29th Anniversary Next Tuesday (25th August, 2020), our Guest Speakers are seasoned professionals and practitioners in their respective fields. They are ready to expose the hidden treasures, golden boxes and many opportunities of #OsunATM.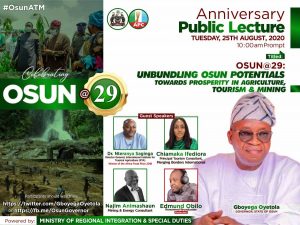 Osun, Ipinle Omoluabi!