Bus lost control,fell in to Osun river,killed three,one injured at Ede"
Tragedy struck at Ede at around 9pm yesterday's night in Oke gada when a bus conveying three passengers with their goods coming from local market lost control after ran to the pit around railway line at Oke gada Ede and eventually fell inside the Osun river.
It would be recalled that this particular point in question had been fixed by the contractor that handle that particular portion of road in Ede,the "Interfem company" but the Nigeria Railway Cooperation (NRC) removed the asphalt from this particular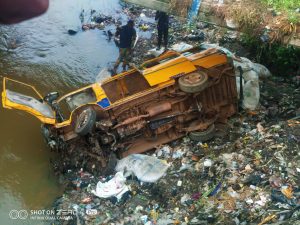 r portion with the complain that the way the road was fixed was affecting the easy passage of railway so,they dug some portion of the road and since then this particular place dug by the (NRC) has been causing problem for both motorists and Okada riders passing through this place.

No way any motor can pass through this place with ease despite the good job done by this contractor, this portion has rubbished all the work done in this area as people are cursing those that are responsible for the digging of this place that is causing problem for motorists.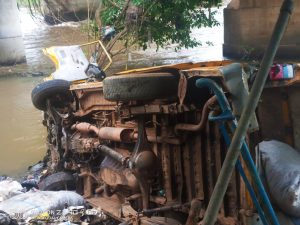 Among those that lost their lives in this accident is a woman called Iya Bili with her step daughter from the same family and one other woman while the driver who is the only one that survived the accident is currently receiving treatment at the Anu Olu hospital Ede.
The state government of Osun should as a matter of urgency do something about this road before it claim more lives.
May the souls of the victims rest in peace.