BUHARI's FLAG-OFF RALLY: UMANA LEADS INSPECTION VISIT TO AKPABIO INTERNATIONAL STADIUM
The Local Planning Committee (LOC) for the Flag-off of President Muhammadu Buhari's Re-election Campaign scheduled to take place in Uyo on Friday, 28 December 2018, paid an inspection visit this morning to the Godswill Akpabio International Stadium in Uyo, where the Presidential Campaign Rally will take place.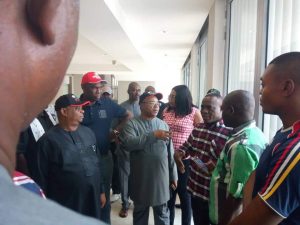 The inspection visit was led by the Chairman of the LOC, Mr Umana Okon Umana, Managing Director of the Oil and Gas Free Zones Authority.
The inspection was jointly carried out by members of the LOC and the security agencies. At the end of the inspection, Umana said the team was satisfied with the state of the stadium and that preparations were in top gear to receive President Buhari and his team on Friday.
Umana confirmed that the stadium has been handed over to the APC State Chairman, Hon. Ini Okopido by the representative of the stadium management committee.
The inspection team was made up of the LOC members, other leaders of the All Progressives Congress (APC) in the state and many dignitaries comprising Senator Ita Enang, Senior Special Assistant to the President on National Assembly Affairs (Senate); the APC State Chairman, Hon. Ini Okopido; the state Commissioner of Police, Mr Musa Kimo; Representative of the state Director of the DSS, Mr Suleiman; DIG (ret.) Ekpoudom, APC chieftain in the state; APC State Organizing Secretary, Hon. Aboh Oduyok.
Others in the team included APC State Youth Leader, Hon. Stephen Ntukekpo; APC State Welfare Officer, Chief Sunny Ibanga and Rt. Hon. Uwem Udoma.