Buhari Endorses Dapo Abiodun As Ogun Governor, Amosun's Thugs Kick
Monday, February 11, 2019.
The governorship candidate of the All Progressives Party (APC), Prince Dapo Abiodun was, moments ago, endorsed by President Muhammadu Buhari at the just concluded Presidential Rally in Abeokuta.
The National Chairman of APC, Comrade Adams Oshiomole, also presented the symbolic party flag to Abiodun at the well attended rally, which was also witnessed by Vice President Yemi Osinbajo, some former and serving state governors and party executives.
In his speech, President Buhari thanked the people of Ogun State for the support given to him in 2015. He reeled out his achievements in the areas of combating insurgency, fighting against corruption, and so on; just he promised to do more.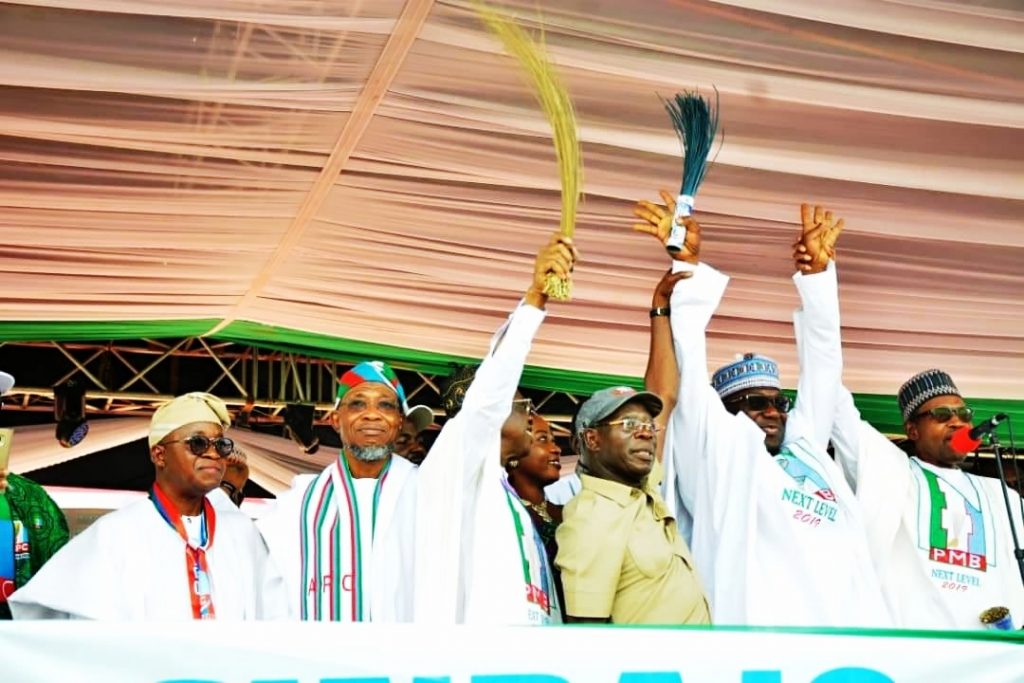 Against the violence that preceded his arrival at the venue, during which several members of the APC were injured and chased out of the stadium by thugs allegedly sponsored by the State Governor, Senator Ibikunle Amosun, President Buhari warned that the choice of who to vote for "is a fundamental human right of the people and that there should be no problems about that at all". He posited that people should be allowed to freely express their choice by voting their preferred candidate.
Ogun APC Apologises
The Ogun State Caretaker Committee led by Chief Yemi Sanusi tenders unreserved apology to the President and Commander-in-Chief of the Armed Forces of the Federal Republic of Nigeria, President Muhammadu Buhari over the gross misconduct, indiscipline, disrespect and disorder perpetrated by agents of Governor Amosun today at the MKO Abiola Stadium.
Governor Amosun, using thugs and other urchins wrecked havoc on members and supporters of the All Progressives Congress for wearing yellow vests and caps of Dapo Abiodun.
The thugs at some points, were personally led by Governor Amosun, who was seen on a video that has since gone viral, removing A-Boards and other campaign materials of Dapo Abiodun from the venue. Also members of the Caretaker Committee were debarred from mounting the stage by Amosun's thugs with obvious compromise of some security agents attached to the Governor.
The unruly acts, not only embarrassed the President and his entourage, but have actually embarrassed the whole people of Ogun State at home and abroad, who have since been expressing their disbelief and disdain.
While tendering this apology, we are happy that the Department of State Security Service and other agencies have details of the sad events, which we urge them to submit to the Presidency.