Ayedire Council Leader Alabi Empowers Small Holders Farmers
The leader of the parliament in Ayedire local government, Hon.Isreal Alabi has empowered small holder farmers in Ile-Ogbo.
Hon. Alabi through the programme tagged "SMALL HOLDERS FARMER'S SUPPORT PROGRAMME", distributed farming equipment to over thirty farmers in Ileogbo on Thursday.
The items include comfort sprayer, chemicals for insects that can cause harm to the crops as well as weed control.
While speaking at the programme, the LG parliamentarian promised to continue support for small holders farmers in his ward to make life more easy for them so as to provide food for their family.
Hon. Isreal said he started the intiative to make farming more comfortable l for small holders farmers, as poverty in Nigeria is concentrated in rural areas.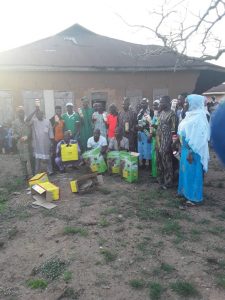 According to him "Low resource or resource-poor farmers characterized by preponderance of small farm units, fragile soils, rain-dependent, minimum inputs and poor yield dominate the agricultural sector.
"The incidence of poverty is highest among households in which the head is engaged in agriculture as the main source of income. Agricultural growth is therefore important to the eradication of extreme poverty and hunger in our community," he added.
One of the beneficiaries who speak onbehalf of others Mr Ajao Thomas commended the council lawmaker for the initiative, saying the gesture will make farming more easier for them in the raining season.