*Assist The Governor To Fulfil His Electoral Promises, Cleric Charges Osun Cabinet Members*
_…as AKOL, the Special Adviser on Public Health offers thanksgiving_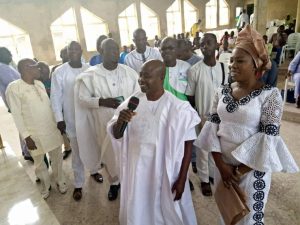 The newly inaugurated cabinet members of Osun Governor Adegboyega Oyetola has been charged to assist the Governor in fulfilling his electoral promises, targeted to make life abundant and peaceful for the people of the state of Osun.
The District Superintendent, Mountain of Blessing, Pastor John Edemevughe gave the charge at the thanksgiving service held on Sunday at Christ Apostolic Church Oke Baale, Osogbo attended by the Special Adviser to the Governor on Public Health, Dr Olasiji Olamiju-AKOL to offer praises and thanksgiving to God for the appointment.
Pastor John, in his sermon, applauded Governor Oyetola for taking his time to gather his cabinet members who he described as "wise men and women" who will further assist him in fulfilling his campaign promises.
According to him, "nepotism is the only bane of the Nigerian polity, adding that a stream which forget its source will definitely go dry. It is not that we don't have people with credible character in this country, but our problem is nepotism."
"I am therefore congratulating Governor Gboyega Oyetola for surrounding himself with this professional men and women of substance, who are going to guide and work with him on his vision to excel among other Governors in the country."
Furthermore, the cleric urged the newly sworn-in cabinet members to study the life of Daniel and Moses, both prophets in bible, adding that the duo despite being leaders in their own right always run to God whenever they are faced with challenges.
"I advise you all, especially one of us who is the Special Adviser on Public Health, Dr Olasiji Olamiju-AKOL, to imbibe the spirit of excellence which God gave to Daniel to excel. Do not be far away from God to succeed, remain humble and the Lord will lift you up," he stated.
The cleric, Pastor John Edemevughe at the program prayed for the government of Governor Adegboyega Oyetola and his cabinet to succeed in governing the state.
Responding, the celebrant, Dr. Olamiju, thanked the almighty God and the Governor for counting him worthy.
He said: "I appreciate God Almighty, Governor Adegboyega Oyetola, his deputy, Benedict Alabi, our party chairman, Prince Gboyega Famodun and every other person used by God to make this day a reality".
I have a new task, which is to make sure that we deliver the Osun Development Agenda of Mr Governor successfully. "I am powerless and without knowledge but by the grace of God, with your prayers and support, we will have knowledge, passion, vision and understanding to drive that agenda to manifestation".
"We are counting on the church of God and the support of Osun people to continue praying for the success of Governor Adegboyega Oyetola led administration", Olamiju maintained.