On Tuesday, I launches the Enhanced e-Passport and Passport Production Center for Nigerians in Canada.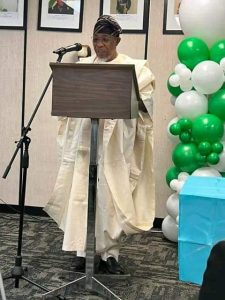 by
The Enhanced e-Passport is the latest technology in identity documentation. It comes with additional security. It comes in various categories, including the 64-page-10-year validity Passport which is quite convenient for frequent travellers. It is a product of the latest technology in passport administration and issuance. Only very few countries in the world can boast of it as of today.
Indeed, Nigeria is among the first five countries in the world and the first in Africa to have this enhanced e-passport. The document is of higher grade with additional 25 security features than the one currently in use. It is polycarbonate in design and therefore water-resistant. It cannot be compromised by counterfeiters and identity thieves.
Below is the full speech delivered at the event.
ADDRESS DELIVERED BY THE MINISTER OF INTERIOR, OGBENI RAUF AREGBESOLA, AT THE ROLL-OUT OF THE ENHANCED e-PASSPORT AND COMMISSIONING OF THE PASSPORT PRODUCTION CENTRE IN OTTAWA, CANADA, ON TUESDAY 28 NOVEMBER, 2022
Protocols,
THE PASSPORT TRAIN ROLLS TO CANADA
It gives me great pleasure to be in Ottawa, Canada, and in the company of the good people of Nigeria and our Canadian hosts. We have been to Britain and United States and now we are here.
Canada is a good country, indeed one of the best in the world to live in and do business. Over the decades, Nigerians have been coming here to get good education and earn a living.
The natural charm of this country will continue to attract people from all over the world.
Canada has also been our partner from ages past and continues to render good assistance to Nigeria and Nigerians. Canada was one of the countries that stood against military dictatorship and stood by pro-democracy activists in the heady days of the 1990s, offering asylum to those being persecuted.
The trajectory of passport is an interesting one. Before passports, cultural ide