AKOL Celebrates Sherifat Aregbesola At 59
Candidate of the All Progressives Congress APC in the last general elections, Dr. Olasiji Olamiju – AKOL has felicitated with wife of the Minister of Interior, Alh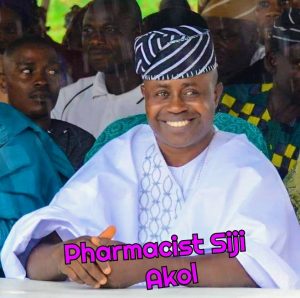 aja Sherifat Aregbesola who turned 59 today.
The Pharmaceutical doctor, in a message signed by his media aide, said her strong support for her husband, the former governor of Osun and the Honourable Minister of Interior, Ogbeni Rauf Aregbesola manifested in the giant strides recorded across all sectors in the state.
Olamiju described Alhaja Sherifat as a role model and shining star in the country's political firmament, saying she is one in a million in humanity kind.
"Alhaja Sherifat Aregbesola is a detribalized woman who has traversed the length and breadth of Osun, helping the less-privileged in a way that their status would not hinder their becoming active positive contributors to the development of the society through her pet project 'Sheri Care Foundation' (SCARF).
"Her undying love for the downtrodden, the deprived and the ordinary folks across Osun is widely acknowledged, while her unflinching backing for the Ogbeni Rauf Aregbesola administration helped tremendously in the fulfillment of its 6-point action plan to Osun people,'' he said.
Olamiju, who harped on her support to the Minister, said, "continue the invaluable support to your husband, Ogbeni Rauf Aregbesola, as he pilot affairs of the Interior ministry.
"As you are savouring the joy of this occasion, it is my prayer that God Almighty strengthens you so that you can continue working for the betterment of your fatherland", he concluded.