Candidate of the All Progressives Congress APC in the last general elections, Dr. Olasiji Olamiju – AKOL have charged Nigerian youths to acquire new skills and discover their purpose in life in order to overcome the problem of unemployment.
The Pharmaceutical doctor made this statement in a message he post on his Facebook page 'Pharm. 'Siji Olamiju – AKOL' on Friday.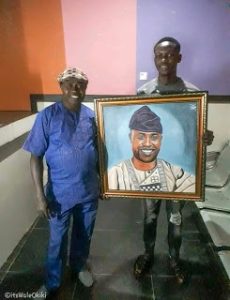 Olamiju, while hosting a young artist who painted a portrait of him, said, it was time the youth recognised their potential and deploy them positively, rather than engage in Yahoo Yahoo or wait for the government to provide jobs for them.
"The first thing youths need to do is to discover who they are and what purpose they are supposed to pursue in life before they decide on the career they are going to pursue."
Below is the Facebook post:
Pablo Picasso, a man famous for creativity and innovation, said, "Every child is an artist. The problem is how to remain an artist once we grow up."
Meet this young guy, Ologunde Moshood, a 19 years old who finished from Ilobu High School in 2018 – walked into my office in the early hours of Monday, with a painted portrait of me.
As a Pharmacist, I was attending to some clients when he walked in. When it was his turn to see me, I noticed the well wrapped 20 inches frame he was holding. He looked at me and smiled. I returned the gesture and asked how I can be of assistance so that I can know which drugs to prescribe.
He responded by telling me his name (Ologunde Moshood) and that he painted a picture of me.
Here is a recap of that conversation:
AKOL: How can I help you sir?
Moshood: My name is Ologunde Moshood, sir. I am an artist born in Ilobu but based in Okinni. I brought an art painting of you sir.
AKOL: Me?
Moshood: Yes sir
AKOL: Let me see.
Moshood unwrapped the frame. Truly, the painting looks exactly like me. I asked further…
AKOL: What informed your decision to do a painting of me?
Moshood: Though, I am not from your constituency sir but I have been following your activities very closely on the social media and as an artist I thought of creating a portrait of you as a gift for your coming birthday.
AKOL: My birthday? (At that very moment I remembered that my birthday was just some days away.)
"I felt something that resonated within me, and I must tell you it looks very much like a photograph (I pointed at the frame)."
Speaking further, Moshood told me that after his secondary school, he chose to learn art because of the passion he has for drawings and that he wanted to do something meaningful with his life.
No doubt, Moshood is a gifted artist. For him, painting has been a relaxing hobby at a time when young lads like him engages in Yahoo Yahoo.
Thank you Moshood for the gift, he concluded.