*AKOL; A NAME THAT CANNOT BE PULLED DOWN BY POLITICAL DETRACTORS*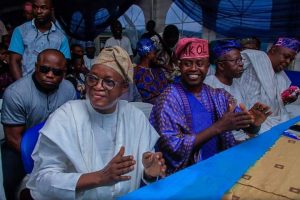 Like him or Hate Him, Olasiji Olamiju is an household name not only in Osun State but all over Nigeria. An experienced and accomplished medical practitioner, entrepreneur cum politician per excellence.
AKOL is an embodiment of humility, doggedness and all sense of effortless contributions to the development of humanity.
His sojourn into politics from the private sector is a testimony of his undying love for the emancipation of his people with regards to his sterling achievements in al ramifications.
His nomination therefore as a Commissioner-Designate by Governor Gboyega Oyetola further resonates the confidence of the state's helmsman in optimizing AKOL's God given talents in threading the path of development further in Osun.
Much has been said about his candidature for Obokun/Oriade Federal Constituency in the last general elections and his eventual withdrawal of his case against the declared winner of the election especially by a group, *COALITION OF CONCERNED OBOKUN PROGRESSIVE GROUPS (COPG)* all to vilify and making him as a disloyal party man and a silent supporter of the opposition; all which are not only baseless, but a figment of the imagination of his political detractors.
No modicum of hate, lies, political propangada and political machinations can bring down a man loved by his people, rewarded for his loyalty by his party and chosen by the Governor to serve the state.
Eni ti Olorun Da Ni Olasiji Olamiju – His Detractors should just join hands with him to take Obokun/Oriade to the next level. No amount of Hatred or Gangsterism by the purported,faceless political jobbers with near zero electoral values under the aegis of *COALITION OF CONCERNED OBOKUN PROGRESSIVE GROUPS (COPG)* and other groups will or ever bring him down nor fuel hatred from his people to him. "A n juwon o se e wi lejo, ija ilara o tan boro". Turning yourselves to the enemy of Obokun progress is a clear indication of your disloyalty, self-centered ness and high level of unpatriotic tendency. " E yee binu ori mo …."