AGF Congratulates Tinubu as He Bags African Democracy Award
The Asiwaju Grassroots Foundation, AGF, has congratulated the two-terms former governor of Lagos State and the All Progressives Congress, APC, National leader, Asiwaju Bola Ahmed Tinubu on conferment of the African Democracy Award on him.
The award was conferred on him and the Ethiopian Prime Minister, Abiy Ahmed at the 4th Africa Political Summit and Diamond Awards in Addis Ababa, the Ethiopian capital by the Association of Political Consultants, APC, – Africa, a body comprising of top political consultants from across the continent.
The group described the award as a recognition of Tinubu's contribution to democracy and good governance in Africa.
In a press statement issued by the groups National Coordinator, Adunni Olateju Ishola, he described the award as recognition of Tinubu's outstanding contributions to the growth of democracy and good governance on the continent.
Adunni urged other politicians in Africa to emulate Tinubu's political shrewdness which has helped to promote good governance in Africa and Nigeria in particular.
He said: "Nobody can deny the contributions of Asiwaju Bola Ahmed Tinubu to democracy, freedom of speech, socio-economic and political developments in Nigeria and across the African continent which this award has recognised.
"Asiwaju is the face of modern democracy in Nigeria and by extension, Africa, given the key role he played in the formation of the ruling All Progressives Congress, APC, and ensuring that the party dislodged the then ruining party, the Peoples Democratic Party, PDP, not only at the Federal level but even in the strongholds of the PDP in different states of the Federation."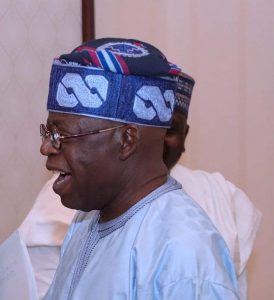 Adunni added that the award can only spur Tinubu to do more in promoting democracy and good governance on the continent stressing that, "Tinubu would continue to help in strengthening and deepening democratic culture and rule of law in Africa".
Asiwaju Grassroots Foundation, AGF, is a social-political group propagating and promoting the ideology of the Jagaban of Borgu, Asiwaju Bola Ahmed Tinubu.