After years of neglect, Oyetola sets to repair Iwo Osogbo road.
Osun state governor, Gboyega Oyetola has assured commutters especially people of Iwo in extension Osun citizens plying Iwo Osogbo road that his administration is ready to fix the 56km road after years of neglect.
Oyetola who spoke through the Supervisor for works in the state, Engr. Remi Omowaiye during his visit with a technical team to the dilapidated road for the spot assessment revealed that the state government is very desperate to fix the 56km road as it tends to enhance the economic growth of the state, easy mobility of people and goods.

"Our long wait on when and how have finally paid off as the collaboration between the state government of Osun and the Federal Ministry of Works have given birth to the major repair works that will start later this week, this road is very dear to the heart of Mr.
Governor as he is convinced that economic liberation of the commercial potentials of this zone will only be unleashed if this road is motorable and rehabilitated", he added.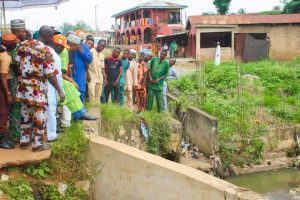 Omowaiye further stated that the robust relationship was fruitful basically due to the instrumentality of cordiality and affinity as members of the same APC political family between both the state and federal government, and one can conclude that the string of continuity handed over to our governor, Gboyega Oyetola by Osun people is not a wasted effort in futility.
Oyetola led administration is a working one and the governor is determined to fulfill all his campaign promises. This road is a pointer that the comfort of the people is a major interest of the governor and the governor is ready to give his best to ensure people live well in the state.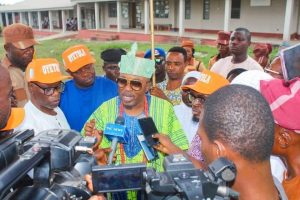 The Monarch of Iwo, Oba AbdulRasheed Adewale Akanbi, the Oluwo of Iwoland eulogized the Omoluabi spirit of Oyetola describing him as a promise keeper, fulfilling what he promised prior his emergence to Iwo people and solicited more cooperation from all his subjects & the entire citizen of Osun for the current administration to achieve more.
Oluwo, Engr. Remi Omowaiye, the Supervisor for the ministry of information and strategy, Lani Baderinwa, local government chairmen in Iwoland, APC party chieftains, coordinating director Engr. Soji Adeniji, Director of Highways Engr. Bashir Akande who all accompanied Engr Omowaiye to check some critically bad section of the Osogbo – Iwo also used the occasion to inspect the ongoing rehabilitation of the Iwo Adeeke road, which will be completed in earnest to enhance community development in the area.