FLASH: PREGNANT WOMAN CAUGHT IN HOTEL WITH A CONCUBINE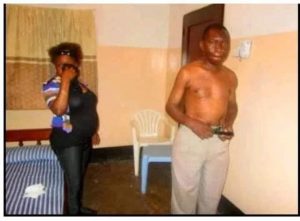 Pregnant woman has been caught having extra marital affairs in a hotel. According to reports,the husband of the pregnant woman has been hearing rumours of his wife cheating on him.
The husband did not pay attention to the rumors until he caught his wife in bed with another man. Reports has it that, his wife and her lover went to their hotel to have fun as usual.
It is noted that they normally use a particular hotel whenever they want to meet and enjoy each other. The husband was informed of their meeting and was already alert. He received a call then he burst into the hotel only to see his pregnant wife with another man.