Flood: Oyetola visits Mallam Tope area, asks Ministry of Works to move in
The Osun State Governor, Adegboyega Oyetola, on Monday evening defied the rain for an on-the-spot assement of the flooded area at Mallam Tope.
He said the decision to visit the flooded area was a further demonstration of government's commitment to the welfare of the citizens.
He has also directed the Ministry of Works to move in immediately, to ensure measures are taken to avert future occurrence.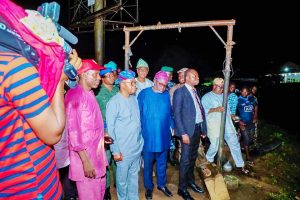 The governor also admonished the occupants of buildings located on waterways and canals in the state to relocate temporarily.
While addressing the residents, the governor attributed the cause of the flood disaster to the heavy rain and sympathised with the victims.
Oyetola said: "I decided to come around so as to assess the collapsed canal that caused the flooding.
"With what we have seen, the dam has to be properly looked into. We will do the needful to ensure safety by involving the officials of the Ministry of Works and Water Corporation.
" We shall do everything to forestall future occurence. I will implore people around the canal to evacuate and stay temporarily elsewhere to avoid any disaster. The government will do everything to help them", he said.
Two of the residents of the area, Mr. Paul Odelola and Mrs.
Ola-Oluwa Oluwakemi, commended the quick response of the State government.
They appealed to the government to support the victims and fix the damaged dam.